DAGM GCPR | 2013
35th German Conference on Pattern Recognition, Saarbrücken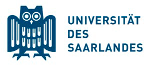 DAGM German Conference on Pattern Recognition, Saarbrücken, September 3 - September 6, 2013



Welcome to GCPR 2013 in Saarbrücken!
The German Association for Pattern Recognition (DAGM) announces their 35th Annual Pattern Recognition Symposium to be held in Saarbrücken, Germany. To reflect the internationalization of the German pattern recognition conference, the "DAGM" conference series has been renamed into "German Conference on Pattern Recognition" (GCPR).
It is organized jointly by the Department of Mathematics and Computer Science and the Max Planck Institute for Informatics. The Workshops and Tutorials will take place on September 3, 2013. The main conference will take place on September 4-6, 2013. The proceedings will be published in a volume of the Springer series on Lecture Notes in Computer Science (LNCS).
News
25.09.2013 - Photos of the Conference are available online.

09.09.2013 - The slides of the invited talk of Gene Myers are online.

06.09.2013 - For the German Pattern Recognition Award and the Paper Awards for GCPR, please see the awards.

05.09.2013 - The slides of the invited talk of Jean-Michel Morel are online.

04.09.2013 - The slides of the invited talk of Raquel Urtasun are online.

04.09.2013 - The slides of the invited talk of Jitendra Malik are online.

26.08.2013 - The program booklet can be downloaded here.

15.08.2013 - The special session on robust optical flow has been moved from thursday to wednesday.

06.08.2013 - Submission for the R3-Session is possible until 11.8.

05.08.2013 - Preliminary program online

05.07.2013 - Notification of acceptance of a poster for the R3 Poster Session will be given in one to three working days. In particular, for all submitted papers before the 9th of July we guarantee notification before the early registration deadline on 11th of July.

21.06.2013 - As a new feature of GCPR 2013 we would like to advertise the R3 (Recent Related Research) Poster Session. The goal of this session is to foster communication in the GCPR community by presenting recently published work in related venues. For more information click here.

10.06.2013 - Registration site is open.

10.05.2013 - We welcome our gold sponsors: Bosch, Fraunhofer ITWM, Google, Intel, MVTec, and Toyota.

19.04.2013 - Deadline passed - Paper notification: June 13, 2013

04.04.2013 - Deadline extension - new deadline: Friday, April 19, 2013

04.03.2013 - Submission site is online.