DAGM GCPR | 2012
DAGM-OAGM 2012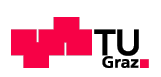 Oral Presentations
Orals are allocated 20 minutes for the presentation plus 5 minutes for questions. You will be asked to leave the podium once your time is up, so please make sure you do not exceed the time limit.

Be present at the podium at least 15 minutes before the start of your session. Oral presenters should introduce themselves to the session chair as soon as they arrive.

If you require any special assistance during your talk or to get to the podium, please let the session chair know of this before the session.

Oral speakers should test their own laptops with the projector before the session, to avoid any technical difficulties.
Poster Presentations
We give the presenters the opportunity to present their posters in both poster sessions on Wednesday and Thursday. Please put up your poster during the lunch break (12:15pm to 2:00pm) before the first poster session on Wednesday. Presenters are responsible for removing their poster after the second poster session on Thursday.

Each poster will be assigned a specific poster board number (see conference digest). Please see the labels on the boards and check with the registration desk should you have trouble locating your poster board. Push pins for attaching your poster to the board will be provided.

You may present your posters on both days, but we kindly ask you to present posters with odd numbers on Wednesday and posters with even numbers on Thursday.

The poster board is in portrait format, it is 2.3 m high and 0.97 wide.